My name is Ilse Engelbrecht, I am 38 years old and my metabolic age is 18.  I have a background in personal training, nutrition and am the Founder of Jump Aholics SA. I am originally from Worcester, Cape Town, but I now live in Boksburg, Johannesburg.  
I won the 1st prize for the Summer Bodies fitness competition and obtained this by preparing with the best nutrition in the world.
I started rebounding as a certified instructor in 2021 and specialize in assisting people to achieve their health and fitness goals. I can honestly say that since doing rebounding, I am in the BEST SHAPE OF MY LIFE.
My goal is to help people to "jump" into the best version of themselves! 
Rebounding is a type of aerobic exercise that is performed while jumping on a minitrampoline/rebounder.
Rebounding offers an incredible health boost for your whole system, supporting the body's natural detox processes. It boosts circulation (and reduces cellulite!), it sculpts a strong core, and tones muscles.
Rebounding can help work the muscles in the legs. It increases your endurance, and strengthens your bones, among a number of other benefits. This type of exercise is gaining popularity because it is gentle on the joints while allowing you to work your cardiovascular system without depleting the body.
OPEN A JUMP-AHOLICS STUDIO TODAY!
Contact Ilse if you are serious about joining the rebound revolution. With a few studio's already open and many more to come, Jump-Aholics South Africa can help you own your own rebounding studio.
We will assist you in becoming a certified trainer.

Provide rebounders for your studio.

Provide other gym equipment needed for your classes.

Provide other related retail products for an extra income stream.

Provide marketing material to get your studio up and running.

Provide workouts as needed for classes.

Assist where possible to achieve the success needed in owning your own studio.

Refer all clientele in your area to your studio

Work as a team to achieve both jumping and business success.
Enquire about opening a Studio Here!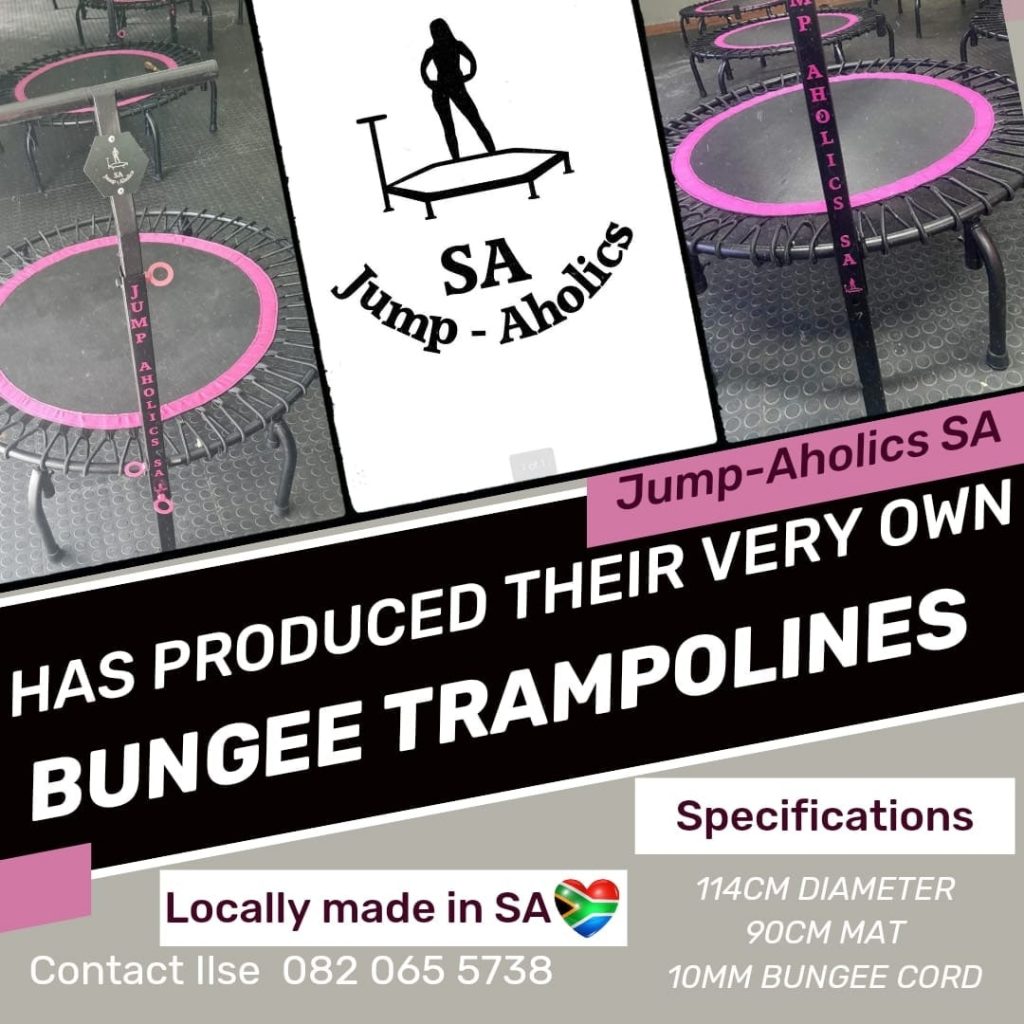 Get your own Rebounder Today!
Jump- Aholics SA are proud to announce that we have our very own bungee rebounders locally made in South Africa. Our  rebounders are great quality and comes with a guarantee 👌 
Our coaches are qualified through Rebound SA, come join a class at one of out studios, to see which rebounder is for you.
Rebounders used by all Jump-Aholics studios in SA.

Bungee Cords.
Silent Bounce.
Adjustable handle bar.
Heavy Duty Studio & home use rebounders available.
Foldable rebounders available( you can travel with these Hexagon shape)
Choose any colour & branding for your rebounder.
114cm diameter/ 90cm mat
Load Capacity: 150kg
Delivery: 14 working days. 10 working days to build your own personalized rebounder.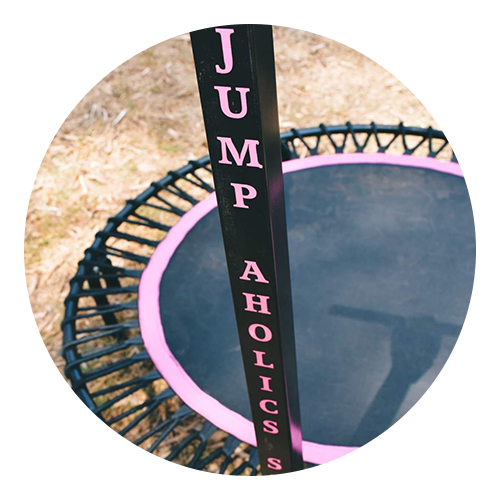 Non Foldable Rebounder
Includes Handle bars
with foldable feet
Includes Handle barsW
It's here!
We-Wèè undies look and feel just like normal undies but have built-in, leak proof® technology.
No more excuses not to jump due to uncomfortable moments on the rebounder. We-Wèè can absorb up to half a syringe of water!
Only available at one of our Jump-Aholics studio's
Order your We-Wèè Jumper today! 
To find out about all our Jump-Aholics SA merchandise, please contact us at info@jumpaholics.co.za
10 Day Weight Loss Marathon